There is a series of blogs/videos, you can find the previous post here:
The story behind the home loan demo is to prepare housing appraisals base on the content given real estate vendor. The appraisal needs to talk to local database, external google map API and also provide information through a web Restful API. We have divided this project into 4 independent integration applications, deploy in a distrusted environment, each handle single functions, and using message broker as the asynchronous medium to pass the message and data around.
First part of demo was to take in and process the information, first we separates the 2 kinds of files, because they are handled differently. And send it to separate messaging broker.
Second demo was about processing the customer data, by reading the xml file and store it into a existing database table.
This part of the demo start really appraising the value of the house, base on the address and information given by the vendor, one of the important factor is the number of schools surrounding the house, to get this information, we are going to integrate with google app engine, by getting the geolocation of the address and then query the surrounding schools base on the latitude and longitude.
Video,
In this demo, you will learn
Endpoint reading from activemq messaging broker
The ActiveMQ component allows messages to be sent to a JMS Queue or Topic; or messages to be consumed from a JMS Queue or Topic using Apache ActiveMQ.
<
bean
id
=
"activemq"
class
=
"org.apache.activemq.camel.component.ActiveMQComponent"
>
<
property
name
=
"brokerURL"
value
=
"tcp://localhost:61616"
/>
<
property
name
=
"userName"
value
=
"admin"
/>
<
property
name
=
"password"
value
=
"admin"
/>
Properties Place holder
Placing data into properties, to set base on different configurations.
<
propertyPlaceholder
location
=
"classpath:sql.properties,googleapp.properties"
id
=
"properties"
/>
RecipientList Endpoint with dynamic Restful URL
Which allows you to route messages to a number of dynamically specified recipients.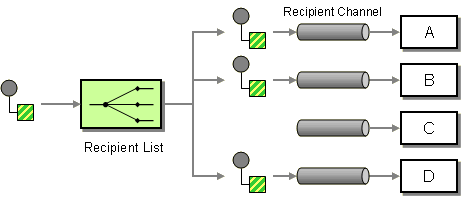 Http4 Endpoint
The http4: component provides HTTP based endpoints for calling external HTTP resources
That's all for this demo!